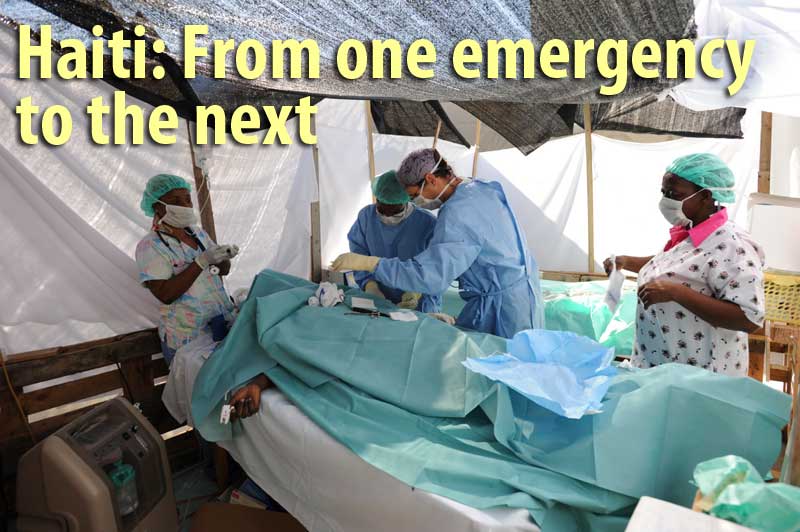 [What follows is from
*here*
]
January 15, 2010 - Medical care under tents continues in front of what was La Trinité trauma hospital and rehabilitation center Pacot. More than a thousands patients have received primary medical care here. The team was able to gather supplies and have set up a tented clinic using the grounds of the pharmacy. All photos ©2010 MSF/Julie Remy
Haiti: From one emergency to the next
Haiti earthquake - One month on
Update from
Doctors_Without_Borders
Port au Prince, Haiti -
MSF
— One month after the devastating earthquake that struck Haiti, the numbers are still difficult to digest: more than 200,000 deaths, 300,000 injured and hundreds of thousands made homeless. From day one, Médecins Sans Frontières (MSF) teams have been providing life-saving surgery and care. The needs are now evolving as delivering post-operative care and improving people's living conditions emerge as the greatest priorities.
Dealing with the emergency
On 12th January 2010, the existing MSF health structures in Port-au-Prince did not escape the wrath of the massive earthquake that hit Haiti. For several days afterward, in fact, many MSF staff members remained unaccounted for. We later learned that seven had died.
Within minutes of the catastrophe, however, people with severe injuries started arriving at the sites of MSF's existing hospitals in Cité Soleil, Martissant, Trinité, Pacot and Carrefour. Emergency first aid was provided all evening and throughout the night, the medical teams illuminating their work with flashlights and the headlights of cars.
Only when the sun rose on the following morning was the scale of the disaster revealed. It quickly became clear that the volume of injured people would overwhelm what was left of the medical facilities and the resources the medical teams had on hand. The need for emergency care and surgery was immense. MSF teams treated as many people as they could—performing operations in makeshift facilities in the street, under plastic sheeting, and in converted shipping containers—while also seeking out new places in which they could set up operating theatres. Many of our Haitian staff worked through this very difficult period despite the fact that their homes and lives had been so damaged.
Today, MSF is working in more than 20 locations in and around Port-au-Prince and the nearby towns of Leogane and Jacmel, including running 10 operating theatres for major surgery and five for minor.. In the past month, MSF teams treated more than 18,000 patients and performed more than 2,000 surgical procedures. MSF now has more than 1,800 staff in Haiti, including 1,450 Haitian employees. Some 1,400 tonnes of medical equipment and relief items were delivered into the country, either directly or through the Dominican Republic, and an additional 350 tonnes of supplies are scheduled to arrive in the weeks ahead.
Post operative care and mental health
MSF is still performing surgery for people wounded during the earthquake; some of the most severe cases have required more than one operation. But following the first phase of round-the-clock life-saving interventions, the medical priorities are shifting to post-operative care, restoring primary care for routine medical problems and help for people with chronic conditions. MSF has already opened four sites specifically dedicated to post-operative care—in Delmas 30, site Lycee in the Champ de Mars area, in a former kindergarten known as Mickey, and at Promesse. One additional site for 150 patients will soon open in Sarthe.
MSF plans to increase its inpatient capacity in the coming weeks in order to ensure quality care for as many patients as possible, including people who were treated elsewhere, in facilities that cannot offer post-operative care. The problem is magnified by the departure of some of the emergency medical teams who had surgical facilities in the first phase. Additionally, MSF is scaling up its mental health activities in its various locations. Psychological support is extremely important for people who have suffered serious injury, especially those who required amputations, as well as their families. MSF includes mental health teams in its outreach programs and mobile clinics that the organization sends to work with the throngs of displaced people, who are living in ad hoc camps. These are people who are trying to cope with grief at the same time as they wonder where and how they are going to live in the future.
Improving living conditions
Now, four weeks after the quake, with the rainy season drawing nearer, there is widespread concern in Haiti about the crowded, unsanitary conditions in which so many have been forced to live. Many have not yet received tents and hygiene kits. Many do not have access to clean water and sanitation. "It's hard to believe that four weeks after the quake, so many people still live under bed sheets in camps and on the street ", says Christophe Fournier, MSF's International President who recently returned from Haiti . "Where it can, MSF has been distributing tents as well as hygiene kits and cooking supplies, but it is mainly concentrating on providing medical care. One can only wonder how there could be such a huge gap between the promise of a massive financial influx into the country and the slow pace of distribution. MSF is concerned that with the onset of the rainy season, we'll be facing new medical emergencies, when people who are living without shelter, come to us with diarrhoea or respiratory infections."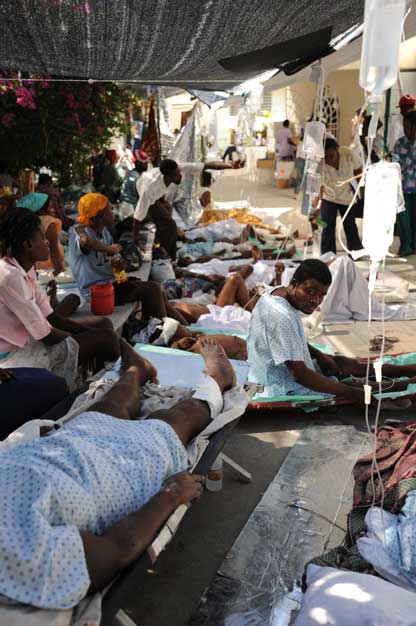 Three days after the Earthquake, the plan was to keep
the first tented sites for basic first aid and care and use
the a new site for the many patients who need surgery.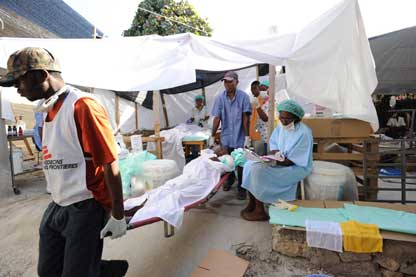 Today MSF has over 1,450 Haitian employees
in addition to 350 MSF staff
see also on HaitiAction.net