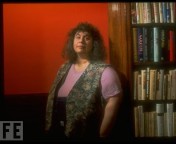 photograph of Andrea Dworkin is from here
I am trying to steer clear of many places online--especially non-feminist and anti-feminist blogs--because what I find there is, to me, usually discouraging discussion with no interest in activism whatsoever. Often the discussions go on and on and on about the same things, seemingly for the purpose of trying to be right--to shore up one's own ego, or to make it seem like the politically oppressed group "women" are now oppressing more and more people.
I'm glad to see new people come into feminist spaces online, however, in order to go over topics that have been discussed in the past. I'm glad new voices come into discussions about important matters, like how men oppress women and how that oppression can end. Hopefully a good percentage of those newcomers will become radical activists. I have found one such site, that gives me hope that more and more women are finding their own voices and are willing to fight for freedom for all women. Not that it ought to be women's job to do so. But Lorde knows men aren't going to do that work. They're too busy looking at pictures of raped women online--because, you know, it's their
white het male god-given right
to do so.
What troubles me is how men, and sometimes also women, invade discussions among women for the sole purpose to derail them or be obstructionistic. This happens a lot. The men who I see do this routinely and preDICKably are called "trolls". "Occasionally, though, there are people who are not trolls, who apparently do want to learn something but nonetheless use all manner of techniques of argumentation to do what the trolls do: derail important pro-activist, anti-patriarchal conversation. Below I respond to one such person. I place that person's commentary in italics. My responses follow, portion by portion. I'm not going to link to the source website because I don't have their permission to do so.
JulianReal

Sun 24-Apr-11 18:13:29