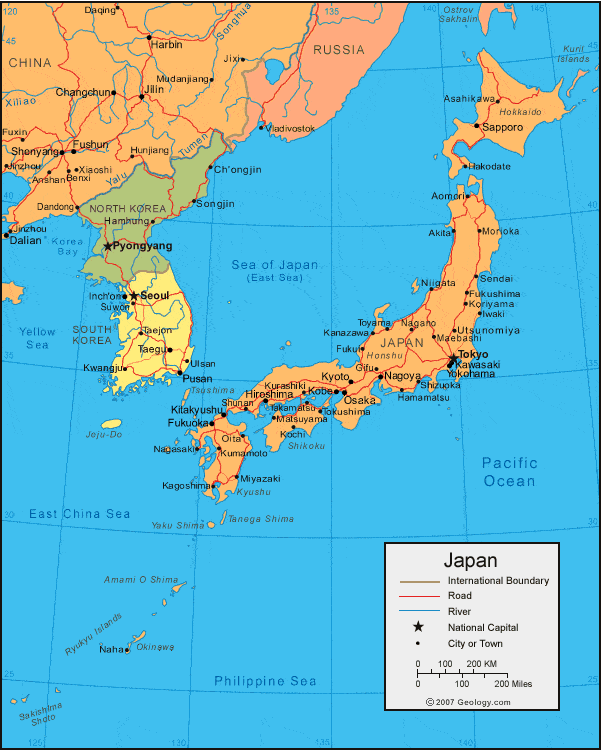 map of Japan and surrounding area is from here
With special prayers for friends and family there.
What follows is from the
New York Times
. Please click on title below to link back.



Published: March 11, 2011
A tsunami hit the coast of northeast Japan on Friday in the aftermath of an 8.9 magnitude earthquake about 80 miles offshore. Television images showed waves of more than 12 feet roaring inland. CNN reported that air and land transportation was severely disrupted.


There were no immediate reports of deaths or injuries but the force of the waves washed away cars on coastal roads and crashed into buildings along the shore, The Associate Press reported.

A second major earthquake of 7.4 magnitude was reported as aftershocks shook the region.

The U.S. Geological Survey said the earthquake was magnitude 8.9, which the agency labeled a "mega" quake. The tremor occurred at about 230 miles northeast of Tokyo and at a depth of about 15 miles.

The quake occurred at 2:46 p.m. Tokyo time and its location was off Honshu, Japan's most populous island.

A tsunami warning was in effect for Japan, Russia, Marcus Island and the Northern Marianas, according to the Pacific Tsunami Warning Center. Japan's meteorological agency warned that a tsunami as high as 20 feet could strike the coast near Miyagi prefecture, closest to the epicenter.

The Associated Press reported that a large ship swept away by the tsunami rammed directly into a breakwater in Kesennuma city in Miyagi prefecture, according to footage on public broadcaster NHK.

Japanese television showed major tsunami damage in northern Japan. Video footage also showed buildings on fire in the Odaiba district of Tokyo, The Associated Press reported.

"It just seemed to go on and on," Katherine Wallace told the BBC, who was in an office building in Tokyo, said of the quake tremor.