photo of Sara Kruzan, while in prison, is from here
It is extremely rare to have good news to report about a woman who defended herself against a slaver-pimp, or a woman who is determined to change her government, both of whom lost levels of freedom for doing so. I have posted news about each of these women in the past, before they were released from each form of detention. Blessings to both of them. Let's hope this is a memorable year for girls and women finding freedom who have been falsely imprisoned and otherwise patriarchally dominated, controlled, beaten, raped, incested, trafficked, terrorised, or enslaved, including in their own homes.
Any woman who takes the life of any man who is her slaver and pimp ought not see one day in jail. She should be heralded as a hero and a defender of freedom.
Below, read more about each of these wondrous stories, and these amazing women. Each story is cross-posted with links provided back to the source website.
http://womensrights.change.org/blog/view/sex_trafficking_victim_sara_kruzan_wins_commuted_sentence
Sex Trafficking Victim Sara Kruzan Wins Commuted Sentence
At 16, Sara Kruzan was sentenced to life in prison without the chance of parole for killing the man who enslaved and sold her for rape as a child. This extreme sentence attracted the attention of women's rights and anti-trafficking advocates, including tens of thousands of Change.org members who called in the past few months for California Gov. Arnold Schwarzenegger to commute Sara's sentence with her 16 years of time served. Amanda Kloer
reports on End Human Trafficking
that Schwarzenegger came through and commuted Sara's sentence to 25 years with the possibility for parole.
Though advocates were hoping for Sara's freedom to come immediately, given that now she has spent half her life behind bars, and longer than that as a prisoner or slave, this victory nonetheless comes as a monumental success. Life without parole meant that Sara never had any chance of living outside of prison walls, despite the fact that Sara showed swift remorse for her crime of desperation and doesn't pose a threat to public safety. Now, though the date at which Sara will again taste freedom is not yet certain (her legal team is deciding on next steps), her sentences provides not just a chance, but a likelihood that she will be able to return to a free life again.
It is disappointing that Schwarzenegger decided to deny a woman who was enslaved and repeatedly sold for rape as a 13-year-old and committed her crime to escape her trafficker while only 16, at a time at which the courts had less understanding than they do now of how an abuse victim's mental state is impacted. Clearly, it demonstrates a need for continued awareness and education about the impact of sex trafficking and rape on victims. Sara Kruzan was poorly served by the American system, which failed to protect her from becoming a child sex trafficking victim, raped on a regularly basis, and then treated as a hardened criminal for acting out of self-preservation against the true criminal, her enslaver, her pimp.
But for Sara Kruzan herself, this is a happy day. Thanks to the extraordinary efforts of activists and anti-trafficking advocates like yourself, Sara can expect to be free again one day, something that had seemed too much to hope for previously. It's a happy new year indeed.
Alex DiBranco
is a Change.org Editor who has worked for the Nation, Political Research Associates, and the Center for American Progress. She is now based in New York City.
* * *
Reports from Burma say release papers have been read to pro-democracy leader and barricades removed from house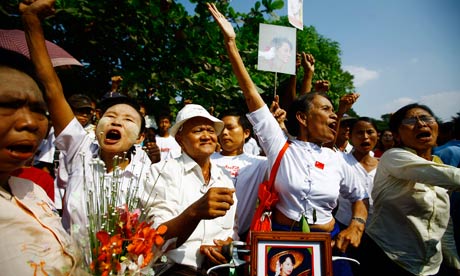 The Burmese pro-democracy leader
Aung San Suu Kyi
has been released from house arrest, according to reports from Rangoon.
Three official cars drove past the crowds of supporters and into the home of the Nobel peace laureate, where she has been confined for the past seven years. In total Aung Sung Suu Kyi has spent 15 of the past 21 years under house arrest because of her outspoken opposition to the military junta, which has ruled
Burma
for 48 years.
The crowds waiting outside the lakeside compound cheered as news filtered out that release papers had been read to the 65-year-old. Police began moving the barricades from around the house at around 4.30pm (10.30am GMT).
Aung San Suu Kyi, whose latest term of detention was due to expire today, could have refused to sign the order if the conditions had been too harsh, said members of her party, the National League for Democracy (NLD).
The ruling generals gave no formal indication of what was happening. It had been unclear if they would respect the expiry of the detention order due to fears she would revive her fight against the dictatorship in one of the world's most oppressive nations.
Close to 1,000 people, among them many journalists, chanted "Release Aung San Suu Kyi" and "Long live Aung San Suu Kyi", some wearing T-shirts emblazoned with messages pledging to stand with her. They were watched by about 30 riot police armed with guns and teargas.
Nyan Win, a lawyer for the opposition leader, said she would meet NLD leaders before deciding what to do next.
Analysts said it was likely only the paramount leader, Senior General Than Shwe, and his closest allies knew the next steps for her.
With the 7 November election, the first in 20 years, out of the way and won by an army-backed party, the generals could seek some international legitimacy with her release. The charismatic daughter of the slain hero of Burma's campaign for independence from Britain has a huge international following.
Her release could be the first step towards a review of western sanctions on the resource-rich country, the largest in mainland south-east Asia and labelled by human rights groups as one of the world's most corrupt and oppressive. It could also divert attention from an election widely dismissed as a sham to cement military power under a facade of democracy.
"The regime needs to create some breathing space urgently," said a retired Burmese academic, who asked not to be identified. "Her release will help improve an image tarnished by electoral fraud."


Aung San Suu Kyi: Freedom From Fear
Following the recent release of Aung San Suu Kyi in Burma, the story of how one of the world's most famous political prisoner was silenced and detained should not be ignored. She is free for now, but the question remains – for how long? And will she ever assume the leadership role of her military state? Aung San Suu Kyi was born in Rangoon, Burma into a political family. Her father founded the modern Burmese army and helped negotiate Burma's independence from the British Empire in 1947. He was assassinated by rivals that same year. Aung San Suu Kyi's mother was also involved in politics. She was appointed to be the Burmese ambassador to India and Nepal. Aung San Suu Kyi studied and lived abroad for her early adult life, spending time in London and New York City. She received her PhD at the School of Oriental and African Studies at the University of London.
In 1988, she returned to Burma to care for her ailing mother. This would be where her political journey began. That same year, long time military leader and head of the ruling party, General Ne Win stepped down. This led to mass demonstrations for democracy in the country. On August 8, 1988 a large demonstration was held. It was violently suppressed and came to be known as the 8888 uprising. Suu Kyi realized her calling after that. She addressed a half of a million people at a rally calling for democracy later that same month. In September of 1988, a new military Junta took power but that did not quiet the cries for democracy, or the path that Suu Kyi had started down. She formed the National League of Democracy (NLD) and served as the General Secretary. Not long after that, Suu Kyi was placed under house arrest. She was offered freedom if she would leave the country, but she refused.
In 1990, the military decided to hold general elections. Suu Kyi's party, NLD won 59 percent of the vote, guaranteeing them 80 percent of the parliament seats. Being NLD's candidate, Suu Kyi would have assumed the role of prime minister. The military did not allow that to happen though. They, instead, nullified the results and refused to hand over power. Despite international outcry over not respecting the election results, the government instead placed Suu Kyi under house arrest again. During this time, she received the Sakharov Prize for Freedom Thought and the Nobel Peace Prize.
In 1996, a motorcade Suu Kyi was riding in, along with two other NLD leaders, was attacked in Rangoon. 200 men stormed the cars with metal chains, batons, stones and other weapons. They smashed windows and doors, but no one was hurt. The government launched an investigation but no further action was taken. Suu Kyi has been under house arrests numerous times, totaling 15 of the past 21 years. When she is under house arrest, she is prevented from visiting with party supporters or other international visitors. The media is also restricted with their access to her. She is imprisoned under the 1975 State Protection Act which grants the government the power to imprison people up to five years without a trial. The government also uses the Law to Safeguard the State Against the Dangers of Those Desiring to Cause Subversive Acts claiming Suu Kyi is "likely to undermine the community peace and stability" of the country.
There are 2,100 other political prisoners in her country.Suu Kyi lists among her influences [Gandhi] and his principles of non-violence. She also cites her religion, Buddhism, as a major factor in her beliefs. She entered politics in order to work for democracy. In one of her most famous speeches, she states "It is not power that corrupts, but fear. Fear of losing power corrupts those who wield it, and fear of the scourge of power corrupts those who are subject to it." She also believes fear spurs many world leaders to lose sight of their purpose. "Government leaders are amazing", she once said. "So often it seems they are the last to know what the people want."